26 août 2017
6
26
/

08
/

août
/

2017
07:03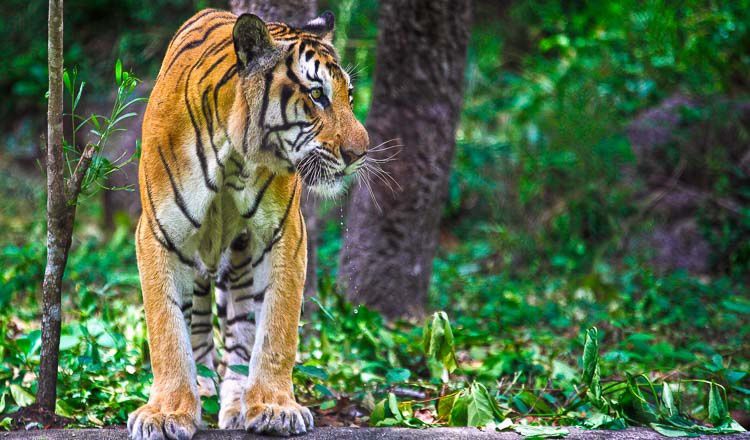 Plus de tigres, plus de touristes. C'est l'argument développé par des agences non gouvernementales auprès du gouvernement cambodgien pour augmenter la population de grands félins dans le Nord - Est du pays. the Khmer Times, il y a 3 jours;
http://www.khmertimeskh.com/5079471/tigers-means-lot-tourists-say-ngos/
A project to increase the number of wild tigers in the northeastern part of Cambodia was put forward to the Cambodian government by a group of NGOs yesterday.
At a Protection and Conservation of Wild Life seminar, chaired by Prime Minister Hun Sen, country director of WWF Cambodia Seng Teak said the project to increase the number of wild tigers in Ratanakkiri and Mondulkiri would attract tourists and generate income for locals.
"Wildlife sightseeing, particularly watching wild tigers, has generated economic growth in some countries, and in Cambodia could create jobs for local people," Mr. Teak said. "The northeastern area, which the government has set as a possible tourist destination, has wide potential for developing a wildlife sightseeing sector for Southeast Asia."
Prime Minister Hun Sen expressed strong support for the project, asking the Ministries of Environment, Agriculture, Forestry and Fisheries to work with WWF and other NGOs on the project.
"The Ministry of Environment must work with WWF to bring wild tigers into the country," Mr Hun Sen said. "The more we can breed, the better."
The Prime Minister lamented the loss of many of Cambodia's wild animals, such as elephants, wild ox, banteng, and wild tigers and other animal species that vanished during war.
"I strongly support the project," he said. "War not only killed human lives, but many animals have fled from Cambodia. It was a huge loss. WWF should talk with the Ministry of Agriculture over breeding and monitoring of the wild tigers, and whether they are comfortable with the place where they will feed them."
Director of Ratanakkiri tourism department Nget Pitu said the project is in line with the eco-tourism development strategy of the province.
"Most tourists, both national and foreign, focus on forests and wildlife in sanctuary areas," he said. "It will help to attract more tourists to the province if wild tigers are reintroduced in the sanctuary."
Mr Teak said conserving wild tigers also means conserving forests, natural grass fields, water sources and other wild animals to feed to the tigers.