16 décembre 2017
6
16
/

12
/

décembre
/

2017
11:05
Le tigre de Chine du Sud, probablement éteint à l'état sauvage ("Une épineuse question. 2" mis en ligne le 8 octobre 2016) est dans une phase délicate. Les controverses de ces dernières années au sein de l'association Save China's tigers ont ralenti le projet de réintroduction, et à ce jour, aucun des 15 tigres de la réserve de Lao - Hu (Afrique du Sud) n'a été réintroduit dans une zone naturelle de Chine méridionale. Et les 165 tigres captifs présents en Chine du Sud ne présentent pas une grande diversité génétique... China Daily, anant - hier. Ma Chi.
http://www.chinadaily.com.cn/a/201712/14/WS5a31e98ba3108bc8c6734090_1.html
A South China tiger chases a boar in Meihua Mountain Nature Reserve near Longyan city in Southeast China's Fujian province June 10, 2014.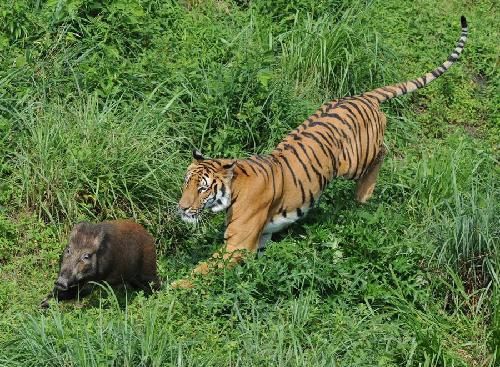 Despite an enlarged population in recent years, the South China tiger, an endangered species, still faces an uncertain future.
The number of South China tigers has increased to 165 from 109 in 2014, and all of them live in captivity, said Yin Yu, the deputy curator of Chongqing Zoo in Southwest China's Chongqing on Nov 30.
The zoo is the only one in China that keeps pedigree information of the tiger, an endemic species to China mainly living south of the Yangtze River.
Yin said there is no verifiable evidence for the existence of South China tigers in the wild over the past four decades, according to their pedigree records. He said all the extant captive-bred tigers are descended from six wild ancestors, and they live in 16 zoos and breeding bases across the country.
In the 1950s, the population of the South China tiger was estimated at over 4,000. But large-scale tiger eradication campaigns combined with extensive habitat loss reduced the population considerably in the next few decades.
It was not until 1979 that the tiger was listed as a state-protected animal.
A joint survey made by the former National Forestry Department — now known as the State Forestry Administration — and World Wildlife Fund in the early 1990s found only an estimated 20 to 30 South China tigers remained in the wild in four the provinces of Hunan, Jiangxi, Guangdong and Fujian.
By 2001, a one-year survey jointly carried out by China and the US discovered no evidence for the tiger's existence in the wild.
Due to the extinction of wild tigers, mating can only take place among the captive-bred individuals, which led to inbreeding.
According to a 1995 survey made by the Chinese Association of Zoological Gardens and the International Union for Conservation of Nature, the 50 captive-bred South China tigers kept only 78 percent of the genetic diversity of their six wild ancestors.
This small population causes a lack of genetic diversity and a declining genetic quality, threatening the propagation of the species, said Sun Quanhui, chief scientist with World Animal Protection, in an interview with Science and Technology Daily.
"Wild animals can preserve the functions and diversity of the ecosystem. Once extinct in the wild, a species is no longer able to play this role," Sun said.
To preserve the genetic diversity of the species, China launched an initiative in 1995 to chart a pedigree map of the tigers, and pair those with distant genetic relations for mating.
Degrees of mating fitness for the tigers are divided into seven levels, with level one indicating a perfect match of two individuals with no close blood relations and level five indicating mating would be harmful to the population.
Yin Yu said the average matching fitness for extant South China tigers stands at level four, which means it is not advisable to mate the two individuals.
Speaking of the possibility of reintroducing the tigers to nature, Sun Quanhui said the tigers have lost their original instincts after generations of artificial breeding and they are no longer be able to survive in the wild.
"There is no precedent for large felines like tigers to be released back to nature and for the wild population to recover," said Sun.
He said humans cannot teach captive cubs skills they would learn from their mothers in the wild, and consequently a reintroduction is not likely to succeed.
Sun said the best approach to protect wildlife is to invest limited human and financial resources into the protection of habitats, anti-poaching efforts and the recovery of ecosystems, instead of artificial breeding of the species.
Since 2003, five South China tigers were sent to reserves in South Africa to learn how to hunt prey under a program initiated by the environmental NGO Save China's Tigers and the State Forestry Administration.
By 2013, the population of South China tigers in South Africa had grown to 15, but none of them have been returned back to China as scheduled, according to Science and Technology Daily.