19 juin 2018
2
19
/

06
/

juin
/

2018
04:27
LA NATURE POUR LES NULS. L'Uttarakhand va offrir aux touristes la possibilité de photographier facilement des tigres, avec l'ouverture du premier safari parc indien, qui hébergera 20 à 25 grands félins lancéolés dans un espace "semi sauvage". Cette "sinisation" des esprits n'est évidemment pas sans conséquence sur le wilderness indien et ses habitants (communautés humaines, animales, végétales) dont le comportement se modifie toujours et se péjore souvent. On filme ou on photographie "en boîte", comme on "chasse en boîte" en Afrique du Sud. La Nature sauvage perd son caractère, les nuls restent nuls, et en sont fiers, désormais. The Hindustan Times, ce jour. Nihi Sharma.
https://www.hindustantimes.com/india-news/now-plan-for-easier-tiger-spotting-at-corbett/story-HzgniNQBbOaVMisDVuFatK.html
Actualisation au 20 juin. Voir aussi la politique de la retenue d'une famille de tigres face à l'inhumanité des touristes envers les populations locales. The Hindu. K.R. Deepak.
http://www.thehindu.com/opinion/op-ed/when-a-tiger-came-to-lunch/article24203178.ece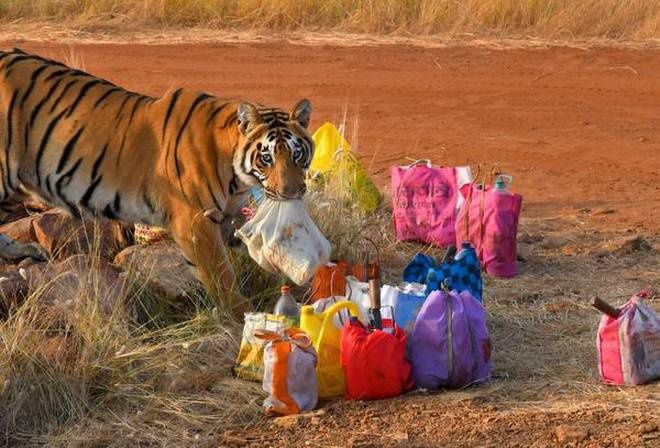 Sighting a tiger in a forest is a dream for a photographer. So, during a morning safari on a recent trip to Tadoba Andhari Tiger Reserve in Maharashtra, when I saw Matkasur, one of Tadoba's most aggressive tigers, walking towards rows of tourist jeeps, I was thrilled. But my jeep driver Chandu Bhoyer's eyes swiftly scanned the area ahead. With years of experience in the forest, he had sensed something wrong. "Sir, let's leave quickly. Choti Tara (a tigress) and her two cubs are ahead," he said. I was excited to see Matkasur, but I trusted Bhoyer's instincts. Little did I know that the experience of the next half an hour would be haunting, and the photos captured of that scene unusual.
As the jeep went uphill to a secluded spot in the heart of the jungle, we saw a big group of grass cutters. About 30 people were atop two tourist jeeps and 15 villagers were hiding behind one of the jeeps. In front of them were two well-built tigers. I was delighted to see two tigers up-close. The excitement was fleeting though — one tiger was ferociously staring at the 15 defenceless villagers and began striding towards them. I saw fear writ large on their faces as they tried to find space in the two fully occupied jeeps. Soon, the father, Matkasur, arrived at the scene while the mother, Choti Tara, watched from a distance. Now there were four tigers. Everyone froze.
I remember one of the workers pleading with the tourists to let them get into the jeep. But the tourists refused, even as they watched wide-eyed the scene that was unfolding. Sometimes, in the most crucial moments, we forget basic humanity.
The tiger went menacingly close to the villagers and crouched, ready to attack them. Bhoyer told me that this would take a deadly turn if we didn't save the villagers. I told Bhoyer to get closer to the two tourist jeeps. We helped the villagers climb into our vehicles. Tigers usually don't attack humans on four wheelers and it always helps when you are in a group in such unusual encounters.
To our surprise, the tigers stepped back and began to explore the area where the workers had kept their lunchboxes and food packets. One of them smelt each one of the packets, picked one up, and went to a nearby watering hole. Just when we thought the danger was over, he came back to pick up another food packet. Thankfully, by this time the forest officials had been alerted. A minibus came and the grass cutters were taken home. As for me, I clicked photographs of tigers with a very different lunch from what they are accustomed to.