15 novembre 2018
4
15
/

11
/

novembre
/

2018
10:43
Ceci fait suite à "Mortelle randonnée" mis en ligne le 3 Novembre dernier, puis actualisé aux 6 et 8 novembre, et à "Le Tracteur" mis en ligne le 5 Novembre, puis actualisé au 6.
Les 2 enfants d'Avni, abattue le 2 novembre dernier, dans des conditions controversées, ont été observés ce matin à Vihirgaon, puis plus tard dans la journée près du barrage d'Anji. Ils ont été attirés par la voix enregistrée de leur mère en train de les appeler. Il est envisagé, si tout va bien, de les capturer et de les placer dans un vaste enclos de la réserve de Pench (Maharashtra, Inde centrale), où ils seront entraînés à chasser puis relâchés dans la nature. The Times of India, ce soir. Vijay Pinjarkar, TNN.
https://timesofindia.indiatimes.com/home/environment/flora-fauna/cubs-of-tigress-avni-shot-for-killing-13-spotted/articleshow/66642585.cms
D'autres tigreaux ont eu moins de chance. Dans le même état, trois d'entre eux ont été écrasés par un train. The Hindustan Times, ce jour. Badri Chatterjee.
https://www.hindustantimes.com/mumbai-news/three-tiger-cubs-run-over-by-train-in-maharashtra/story-0Gut9Z3PcxvCgYqhWuIKaK.html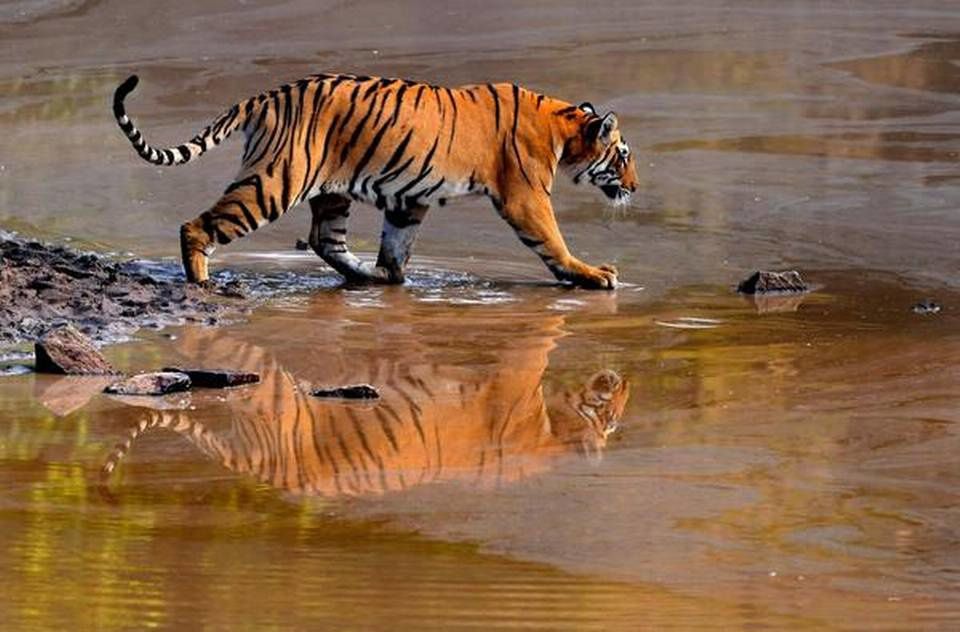 Un tigre sub-adulte traverse une rivière dans la réserve de Tadoba Andhari (Maharashtra, Inde centrale).
TIRER, ET REFLECHIR (OU PAS) ENSUITE... The Hindu, ce jour. Jacob Koshy.
https://www.thehindu.com/opinion/op-ed/protecting-the-tigers-habitat/article25498494.ece
Why is the death of tigress Avni controversial?
Since 2016, the deaths of 13 people in the Pandharkawda divisional forest of Maharashtra have been attributed to tigers and at least five of them to Avni, a 6-year-old with two cubs. India's wildlife laws permit a tiger which is believed to have preyed on humans to be killed. The State's chief wildlife warden claimed he had evidence. The decision to shoot T1 (known as Avni) was taken in January but stayed by the Bombay High Court after appeals by activists. Three more deaths later, the Supreme Court, in September, cleared the way for the forest department to have the tiger killed. On November 2, it emerged that forest officials along with Asghar Ali, the son of hunter Nawab Shafat Ali, claimed to have chanced upon the tiger which, they said, charged at them. The hunting party failed to tranquilise Avni, as the rules required, and shot at it fatally. Union Minister for Women and Child Development Maneka Gandhi described the killing as "murder", and several activists and some veterinarians have alleged that no attempt was made to tranquilise the animal. The National Tiger Conservation Authority has commissioned an independent team of wildlife experts to investigate the killing.
How serious is the tiger-human conflict?
The killing of a man-eating tigers is a rare but not unprecedented in India. As tigers are India's apex predators and symbols of its success at conservation, the unusual death of even one tiger causes disquiet in forest departments and among conservation biologists, tourism officials and activists. Out of 553 tiger deaths from 2012 to 2017, 22.1% were due to poaching, 15.4% were seizures, and 62.4% were attributed to natural causes and causes not attributable to poaching, according to information from the Rajya Sabha. India has 50 tiger reserves, but with forest area increasingly spilling into hamlets, there have been several instances of tigers preying on cattle, livestock and, sometimes, people. Days after the killing of Avni, villagers in Lakhimpur Kheri, U.P., crushed a tiger to death with a tractor after it fatally attacked a farmer.
Are conservation efforts adequate?
While there is a larger concern about the shrinking space for tiger habitat in India, conservationists have also said that a few tiger reserves are being pampered at the expense of others. A recent study by the World Wildlife Fund said that eight tiger sanctuaries in India could, over time, support more than four times the current population of tigers in these sanctuaries. Ullas Karanth, the noted conservationist, has said that it is futile to preserve individual members of a species and that efforts must be made to conserve the species as a whole. Conservationists have also said that "man-eaters" is a legacy term from colonial hunters and incorrect in today's times. Tigers don't actively seek out humans; it is only because of increased contact between humans and animals that there are more conflicts which leads to deaths.
Voir aussi l'analyse de Rajesh Gopal, Secrétaire Général du Global Tiger Forum, dans "The Indian Express", hier."Not burning bright".
https://indianexpress.com/article/opinion/columns/yavatmal-tiger-killing-man-eater-5445042/
Agriculture and cash crops beyond protected areas readily lure wild pigs and other preys, which in turn lure big cats. The inevitable outcome is "conflict of interface" between wildlife and humans, which cause distress to people. And once wild animals earn a pest value, they get trapped in snares or succumb to revenge or avoidance killings, more often than not through a silent method of poisoning using pesticides...
Human-tiger interface management demands proactive measures. One cannot allow a big cat to get habituated and then brutally eliminate it. It is a tragic end for our national animal, and a complete travesty of the responsibility reposed on foresters and wildlife experts.
Actualisation au 16 novembre. La question des conflits entre tigres et êtres humains en Inde centrale fera l'objet d'une importante réunion du 3 au 6 janvier prochain, qui se tiendra dans la réserve à tigres de Melghat. The Times of India. TNN.
https://timesofindia.indiatimes.com/city/nagpur/meet-to-find-solutions-to-central-india-eco-issues/articleshow/66639737.cms