1 février 2012
3
01
/

02
/

février
/

2012
10:23
EN DECEMBRE 2011, LE CHINA DAILY APPELAIT LES AUTORITES A PRENDRE A BRAS LE CORPS LA PERTE D'HABITAT ET LE BRACONNAGE DES TIGRES SAUVAGES DE CHINE DU NORD ("TIGRES DE MANDCHOURIE). EN 70 ANS, LEURS EFFECTIFS SONT PASSES DE 300 A 20. SI RIEN DE COHERENT N'EST ENTREPRIS EN 2012, CES ANIMAUX AURONT DISPARU DE CETTE REGION DU PAYS AU DEBUT DES ANNEES 2030, VOIRE AVANT. MEME LES ECUREUILS Y SONT DEVENUS RARES.
L'AFFAIRE NECESSITE UNE GESTION TRIPARTITE RUSSO - SINO - NORD COREENNE.

LA CHINE FUT, HISTORIQUEMENT, LE PAYS DU TIGRE PAR EXCELLENCE. IL FUT LE SEUL A HEBERGER SUR SON TERRITOIRE, JUSQU'AU SIECLE DERNIER, les 5 VARIETES GEOGRAPHIQUES CONTINENTALES EXISTANTES DE CET ANIMAL : tigre de Chine du Sud (aujourd'hui disparu, et que Li Quan tente de réimplanter à partir de l'Afrique du Sud), tigre de Mandchourie, tigre d'Inde, tigre d'Asie du Sud - Est, tigre "de la Caspienne" (branche eurasienne occidentale du tigre de Mandchourie).

BEIJING - The last remaining Siberian tigers living wild in Northeast China could disappear within decades, as poaching and illegal logging continue to take their toll, experts have warned.
Research by Chinese authorities and the World Wide Fund for Nature (WWF) has discovered that the animal is already one of the planet's most endangered species.
In just the last 70 years, the estimated population of Siberian tigers, or Amur tigers, has plummeted from as many as 300 to just 18 to 22.
"If the government fails to take effective measures, it's foreseeable that these creatures could disappear from China within 10 to 20 years," said Zhu Chunquan, conservation director of biodiversity and operations at the WWF's Beijing office.
"The poaching of wild animals, which is the tigers' main food source, is the greatest threat to their survival," he said, adding that extensive logging in the mountainous provinces of Heilongjiang and Jilin has also massively reduced their natural habitats.
Since 1996, when hunting for wildlife was banned in both provinces, authorities have noted a sharp rise in poaching with iron-wire snares.
Zhu said traps can be easily bought in small shops close to forest areas, with most used to catch red deer, sika deer, wild boars and roe deer, which Amur tigers hunt for food.
"A decade ago, we'd see roe deer while driving by (the forests)," said Cao Zhiquan, director of Qiyuan Forest Farm in Dongfanghong township, Heilongjiang. "Now it's even rare to see a squirrel."
Traps also pose a huge risk to the tigers, too. In October, a dead Siberian tiger was found with a wire snare around its neck near a reservoir in Mishan, Heilongjiang. Wildlife experts said the animal did not choke to death straight away, but instead died several days later from starvation.
A WWF survey of the wild tigers' habitats in Heilongjiang and Jilin found an average of 1.6 traps for every 10 kilometers.
"Volunteers from the WWF hold campaigns to remove traps every year, but we've gradually accepted the fact that we cannot clear all the traps ourselves," Zhu said. "To effectively protect the tigers, we need to call on more people to stop eating wild animals. This isn't something that can be done over a short time, though."
As with poaching, illegal logging became prevalent after the government introduced restrictions, with a total ban placed on the felling of natural forest in 2000.
China's State Forestry Administration said that due to technical constraints and poor management, most wild Siberian tiger reserves, such as the one in Wanda Mountain in Heilongjiang, still lack effective monitoring systems.
In addition, these reserves are often short of workers and do not have enough people with sufficient knowledge about tiger protection.
To preserve the precious tiger species, experts are calling for more international cooperation, especially between China and Russia.
An estimated total of 500 wild Siberian tigers live in Russia's Far East and Northeast China, yet infrastructure construction has fragmented the populations.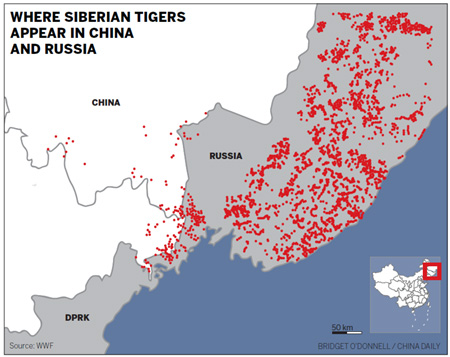 "Border fences as high as 2 meters are a big obstacle for the tigers to get past," Zhu said, adding that the WWF is looking to help China and Russia protect and restore links between the tigers' habitats. "By doing so, hundreds of wild Siberian tigers in Russia will be able to travel to China, which will result in more cubs being born."
The conservationist said both countries should try to make agreements to use recording devices along the border, instead of fences.
"We are striving to double the population of wild Siberian tigers in China by 2022, but more international cooperation is needed," Zhu said.
The State Forestry Administration said China has paid great attention to international cooperation on tiger conservation and has promised more joint projects.
The country has already reached agreements with India and Russia on tiger protection, while a series of measures, such as habitat surveys and information exchanges, have been carried out with other countries and international organizations.