30 janvier 2013
3
30
/

01
/

janvier
/

2013
20:41
EN UTTAR PRADESH COMME AU NEPAL, DES TIGRES ATTAQUENT DES RHINOCEROS ADULTES ET LES DEVORENT (source : Hindustan Times, ce jour).
A tiger sneaked into the Rhino rehabilitation area in Dudhwa tiger reserve (DTR) on Monday and killed a 34-year female rhino. The partially eaten carcass of "Pavitri" was discovered on Tuesday.
This was the fifth Rhino attacked in 14 months. All the attacks took place in winter. Over November and December 2011 and January 2012, four rhinos were attacked. Two were injured, two died. This was the first attack this winter.
Similar incidents have been reported from Nepal's Chitwan Park, said Shailesh Prasad, chief conservator of forest and field director of DTR.
"Tigers do attack rhinos, as has been reported from Assam's Kaziranga Park, but the attacks were on young calves. Attacking adult rhinos is somewhat against the normal hunting pattern," said Ganesh Bhat, deputy director of DDR.
Dr SP Sinha, an expert on rhinos, felt a shrinking prey base could be a reason for the attacks. But Dudhwa has ample prey base, said Bhat.
"The number of rhino attacks in Dudhwa is high because the rhinos there are kept in an enclosed area," said PK Sen, former director of Project Tiger. "It provides the tigers with easy prey in winters, when catching other animals in the wild become difficult."
Tigers attack sub-adult rhinos but not the adult ones because of their size. "Full grown and active rhinos and elephants are able to defend themselves because of their size and strength," Sen added. "One needs to find out whether this particular rhino was incapacitated, which restricted her ability to defend herself."
The dead Rhino, Pavitri, was among the five brought from Assam in 1984 to start the rhino rehabilitation project in Dudhwa. At the time, she was six years old. She was named Pavitri as she was brought from Pavitara park.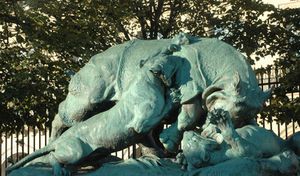 Réalisation d'Auguste Nicolas Cain, sculpteur français de la deuxième moitié du 19ème siècle. Ce combat du rhinocéros et des deux tigres est au Jardin des Tuileries.
Voir aussi le suivi dans le Times of India du 1er février.
LUCKNOW: Have Dudhwa tigers shunned their preferred prey - the cheetals and sambhars - to hunt the mighty rhinos? The killing of a 35-year-old female rhino by a tiger in Dudhwa national park and the subsequent eating of the carcass has raised a doubt if the behaviour of Dudhwa tigers is changing. The experts are not ready to buy the argument that the declining prey base is the reason why tigers are hunting and eating rhinos.

"If tiger population in the park is increasing, prey base can not decline," said Tito Joseph from the wildlife protection society of India ( WPSI). The tiger sneaked into the rhino rehabilitation area to kill the 35-year-old female rhino Pavitri, brought to Dudhwa in 1984 under the rhino rehabilitation programme. This was the fifth attack since November last year on rhinos by tigers in Dudhwa. In the past one year, two rhinos have been killed by tigers and one has rescued by the park administration in Dudhwa. The feline attacks on rhinos aren't rare. But, in most of the incidents, it's the cubs which are killed.

Contrary to this, it was an adult female rhino killed this time. Is it the same tiger which is killing rhinos? Is the attacking feline old? Bibhav Taluqdar, who chairs International Union for Conservation of Nature Asian rhino specialist group, said Dudhwa authorities should try to find answers to such questions in case the attacks are rampant. "It's not rare that tigers kill and eat rhino. Rhino comes as an easy hunt for a tiger who can not chase a deer," he said.

Assam's Kaziranga National Park, which shelters the biggest population of rhinos, has about 15 to 20 rhino cubs getting killed in tiger attacks every year. The killing of an adult rhino is not common. "A tigress rearing its cubs can kill a rhino as the feline need not go far from its cubs," said Taluqdar. Though rhinos are mighty, a single adult tiger can kill a rhino. In Corbett there have been incidents where elephants have been killed by tigers. Compared to this rhino is an easier kill, he said.

Tigers eating rhino, experts feel, is not bewildering. "Rhino is not a preferred prey for tigers but once killed, tigers can eat it," said Joseph. Deputy director, Dudhwa Ganesh Bhatt said, "we have informed central government about the rhino mortalities". In Dudhwa, rhinos were re-introduced in 1984 under state's rhino rehabilitation programme. At present, 29 rhinos are present in the Kakraha range of the park. Existing in maximum numbers in Kaziranga national park, rhinos exist in Dudhwa tiger reserve in UP and Valimiki Reserve in Bihar.